Choreographic Camouflage
a collaboration bw Liam Young and Jacob Jonas the Company.

Role: Technical Lead
Choreographic Camouflage is a music film directed by Liam Young and choreographed by the dance studio JACOB JONAS THE COMPANY. We developed a new vocuabulary of camouflage movements that disguise the proportions of the human body from the body detection algorithms used by city surveillance networks. The film is an overlay of slow motion footage and machine vision visualizations of the way skeleton detection algorithms are trying to read and recognize the body in motion.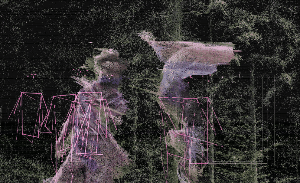 CREATIVE CODING
POSENET
Google Creative Lab released a TensorFlow.js version of Posenet which we manipulated and broke.
CREDITS
Director Liam Young
Choreographer Jacob Jonas
Technical Lead, Shuruq Tramontini
Director of Photography, Horacio Martinez and Pannyhire
Jacob Jonas The Company
Managing Director Jill Wilson
Executive Producer Tonia Barber
Assistant Choreographer Anibal Sandoval
Featuring Jacob Jonas The Company Performing Artists: Joy Brown, James Blackston, Miguel Lopez Jorge, Emma Rosenzweig-Bock, Mike Tyus, Jill Wilson